The first Spanish Small Satellites International Forum "SSSIF 2019", that is being held in Málaga (Spain), started on 7th March.
The event, hosted by DHV Technology, is supported by NASA, ESA, CDTI, plus EVERIS ADS along with other sponsors. The symposium gathers important international players of the New Space sector: a large number of agencies, companies and universities active in the SmallSat industry (developers, scientists, suppliers and all) united by a technological innovation attitude. GAUSS has joined the event as a Speaker and as a Bronze Sponsor.
On the 2nd day, 8th March, Filippo Graziani (Professor of Astrodynamics, IAA Member, GAUSS Srl President) is taking part in Panel n. 1 talks regarding "Launchers for Small Satellites. Access to Space".
On the 8th afternoon agenda there is GAUSS Presentation "UniSat-7 Platform: Provider of Access to Space for Nanosatellites and Fixed Payloads", during Session n.3 of Panel 2, when Marta Massimiani will give an overview of our next mission and its role as enhancer of access to Space. UniSat micro-satellites series is emblematic of providing access to Space to smaller satellites and facilitating the reach of the orbit to third party payloads in order to test their technologies in Space environment and acquire flight heritage. In fact, payloads developers can get access to Space through our satellite bus so to achieve the readiness for the market of their new technology.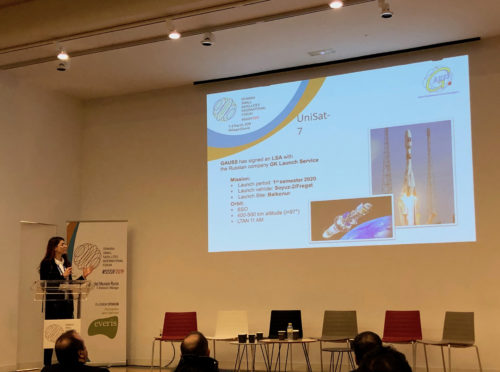 You can find GAUSS Booth in the Exhibition area, where you can discover more about our Company activities.