GAUSS Power Conditioning and Distribution Unit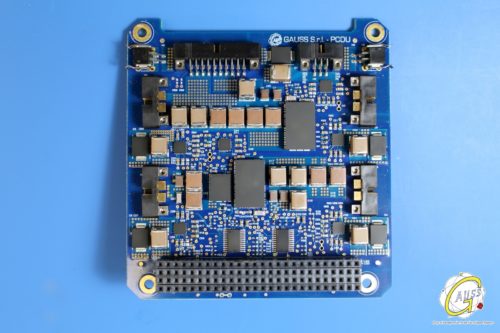 News: The PCDU is under final IOD testing and it will soon be available to order. Contact us if you are interested!
GAUSS Power Conditioning and Distribution Unit ("PCDU") is a Power Subsystem for CubeSats and Micro-satellites, developed entirely by GAUSS Srl.
It is designed to interconnect, manage and transform power sourced by the primary EPS system of the satellite and provide it to several payloads, allowing to switch on and off each channel while returning telemetry for each channel.
The PCDU includes four regulated and independent power channels, and one unregulated channel, directly connected to VBAT.
It can be connected to the main EPS or to a custom-sized battery pack and there are three power modules that convert energy to the required voltage of each power channel.
Two power outputs are rated for up to 6 A.
Every power channel has its dedicated and user-configurable current limiter and switch, and all currents are monitored through a dedicated I2C bus.
The temperature and status of all power modules is monitored and managed through I2C.
There are several safety measures and fault responses in place, which can be configured based on the particular payload and system architecture.
The PCDU subsystem is managed through a low-level library, therefore it is easy to interface with any logic and OBCs.
An aluminum chassis is available as an accessory: it is used to better shield the PCDU inside a PC104 stack and it is suggested to be utilized when the PCDU is connected to hi-power payloads, to achieve a better and homogeneous heat transfer.
The aluminum chassis is provided with low-outgassing thermal pads.
The PCDU was successfully tested on TVAC with hi-power payloads (also without the chassis) and it is currently in orbit, onboard UNISAT-7.
The PCDU subsystem was created for GAUSS latest mission, UNISAT-7, which needed an additional managing level in the power subsystem to switch between several IOD payloads and sustain them, each with its individual power requirement.
Primary Features
PC/104 CubeSat standard compliant
Five power outputs;
Three DC/DC step-down buck power modules;
Four independent and configurable power channels;
Power modules tested to Mil-STD-883D;
Power-good indications;
Up to 50W output power at 85°C;
Power modules meet EN55011 radiated emissions;
Automatic efficiency optimization at light loads;
Efficiency up to 95%*;
Soft start available;
Low-resistance current limiters;
Adjustable load current from 2A to 6A;
±8% accuracy for current limiting;
±1,5% accuracy for load current monitoring;
User-configurable fault response (latch-off / autoretry);
Input voltage monitored;
Adjustable under-voltage lockout;
Fixed over-voltage lockout options;
Redundant over-temperature protections;
ECSS guidelines used for electronic design;
High-reliability, high-current jackscrew connectors;
-40°C to +105°C operative range.
*Efficiency depends on load current and VIN
Flight Heritage
GAUSS PCDU subsystem is flying on:
UNISAT-7 (2021, 32kg Micro-sat, 2x PCDUs).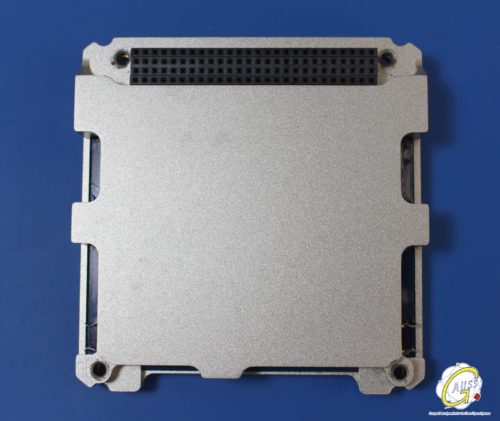 The aluminum chassis available as an option.
It is suggested to be used when high-power payloads are connected to the PCDU.
The chassis is supplied with thermal pads that shall be placed on specific sections of the PCDU to enhance heat transfer.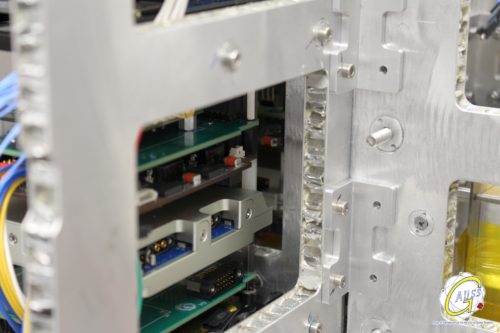 The PCDU mounted inside UNISAT-7. There are two PCDU boards integrated in UNISAT-7.