GAUSS Srl is participating in the Castelgrande Observatory Mission, through the CastelGauss Project, providing technical assistance and its know-how in space debris research.
Being the area of Toppo di Castelgrande – in the Italian region of Basilicata – particularly suitable for space objects observation, it already hosted the astronomical observatory run by INAF-Capodimonte, with a 1.54 meter altazimuth telescope (TT1). Near the above-mentioned observatory, a new building dedicated to the space debris and asteroid detection has been added by the local authorities, CastelGauss Observatory, run by KIAM and GAUSS, containing automatised telescopes for the optical observation.
The aim of the new Observatory is to study the characteristics of space debris and NEOs (including asteroids), the optical observation of rotation period, size and shape of the detected body, photometric measurements, surface composition and so on.
Inside the Dome, there is a 22-cm aperture ORI-22 telescope (with 4.1×4.1° FOV, 510mm focal length and 4.82 arcsec/px scale) installed on a Skywatcher EQ-6 Pro mount and equipped with a 3k×3k FLI CCD camera. A second telescope will be installed in the near future: a 35-cm aperture Ritchey-Chrétien telescope with 40′ FOV to support the tracking of dimmer objects at GEO and HEO orbits.
From the Observatory GAUSS personnel has been able to capture a picture of the Chinese Space Station Tiangong-1 while passing over Italy during its descent to re-enter the Earth atmosphere, on March 31, 2018. The vivid photo has been taken during the activity of observation and monitoring with an exposure of 0.5 seconds, and the IFOV is located at 18h 36m 48.602s RA, -23˚ 09′ 15.96″ DEC.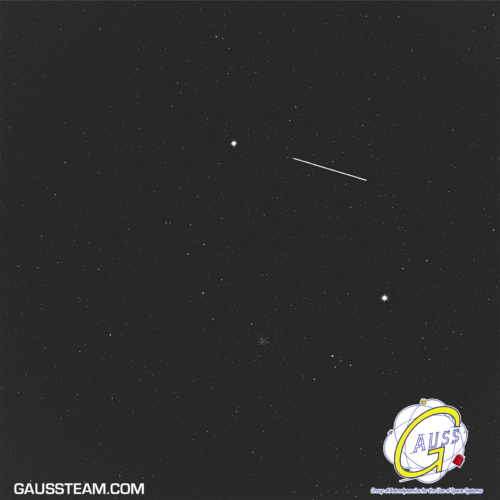 Below you may find some pictures of the Observatory, together with some results of photometric measurements realized.
The results of the space debris observation are being further studied.