The "IAA Regional Symposium of Space Debris Observations from Basilicata" is going to be held on 9 and 10 July 2019 on Toppo di Castelgrande (Province of Potenza) in the Basilicata Region (South of Italy) where the Astronomical Observatory of Castelgrande is located.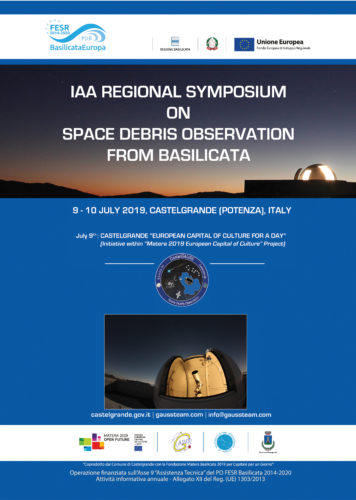 The event is organized by the Municipality of Castelgrande and the Company GAUSS Srl, under the aegis of the International Academy of Astronautics (IAA) and it is inserted in the framework of the Year of "Matera European Capital of Culture".
The 9th of July the Municipality of Castelgrande will be awarded the title of "Capital for a Day" through the regional initiative of Matera Basilicata 2019 promoted by Fondazione Matera-Basilicata 2019.
Castelgrande Observatory forms part of the International Scientific Optical Network (ISON) and carries out Space Debris and NEO observations through CastelGAUSS Project, in cooperation with KIAM, the Keldish Institute of Moscow and in agreement with the Municipality of Castelgrande (Province of Potenza, Italy) .
The program of the Conference is available here.