The IAA SciTech Forum 2018 is held in Moscow on November 13 – 15, 2018. The event is organized by the International Academy of Astronautics (IAA) in partnership with the Academy of Engineering of Peoples' Friendship University of Russia (RUDN University) and is supported by the American Astronautical Society (AAS).
The Forum includes two conferences, concerning subjects of GAUSS' domains of expertise:
IAA Conference on Space Flight Mechanics dealing with topics ranging from Attitude Dynamics and Control to Mission design;
IAA Conference on Space Structures and Materials dealing with Nano- and Microsatellites Construction, materials and other related topics.
GAUSS participates in the Forum as Specialist in Space education/research and valuable hands-on experiences Company, together with other professionals from different countries all over the world.
On November 13 is scheduled the Presentation titled "An Advanced Remote Sensing Cubesat Constellation for Multi-Spectral EO Imaging" on the use of CubeSats for Earth Observation, given by GAUSS Engineer Riccardo Di Roberto.
Highlight lectures by renowned researchers are in the Program. Professor Filippo Graziani – GAUSS President and IAA Trustee – who is part of the Program Committee and will co-chair the Session on Space Missions and Applications (SMA) of the Conference on Space Flight Mechanics, on November 15 is giving the Highlight Lecture n. 13 titled "From San Marco Project to UniSat Satellites and…? – Dreams, Reality, Concerns" regarding history, state-of-the-art and future applications of Microsatellites.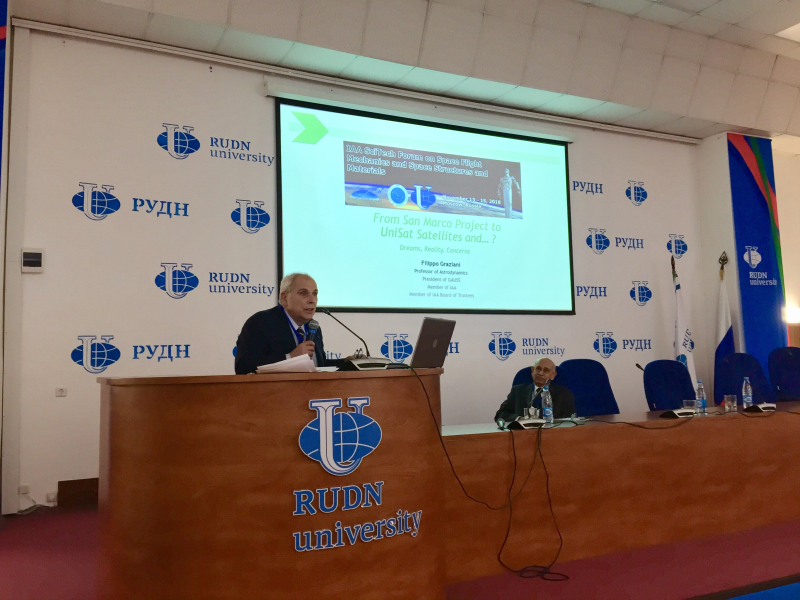 Professor Filippo Graziani during his Highlight Lecture at the SciTech Forum, 15 November 2018.