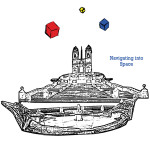 The 3rd IAA Conference On University Satellite Missions and CubeSat Workshop & International Workshop on Lean Satellite Standardization is about to start.
 Just four days to go: from  the 30 November to the 5 December 2015 the conference will be held in the  artistic location of Palazzo Rospigliosi in the centre of Rome.
 It is a notable opportunity to interact with insiders and students of the Satellite Community.
 Join us and get an insight of space missions and microsatellites' projects!