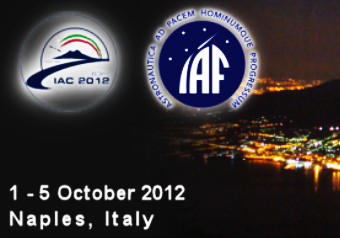 For the fourth time Italy will host the International Astronautical Congress (IAC), after the editions of Rome (1956 and 1981) and Turin (1997). From 1 to 5 October 2012 Naples will be the picturesque setting of one of the most prestigious events on the international aerospace community.
GaussTeam will be there with a stand during the days of the congress. Come and visit us, and you can find out more about our services.
Per la quarta volta l'Italia ospiterà l'International Astronautical Congress (IAC), dopo le edizioni di Roma (1956 e 1981) e Torino (1997). Dal 1° al 5 ottobre 2012 Napoli sarà la suggestiva cornice di uno degli eventi di maggior prestigio per la comunità aerospaziale internazionale.
GaussTeam sarà presente con uno stand durante l'intera durata del congresso. Vieni a trovarci, e scopri i nostri servizi.
IAC website: http://www.iac2012.org/
Message from the Local Organising Committe
IAC 2012 brings prestige to Italy, Naples and the Campania region in many ways.
It rewards the work and involvement of Italian aerospace.
The Naples region and the surrounding province have had a long involvement with this industry with a widespread and innovative industrial base, ranging from small companies, through medium-sized high technology enterprises to large, leading world-class organisations. Italy has always been able to deploy its great abilities in this field, achieving great success.
Representatives of national and regional politics, industry, universities, the world of research, but most of all, the whole Campania region, has come together with ASI to help set up and organise the 63rd International Astronautical Congress. This makes Naples and Campania excel in this important global context.
The thousands of delegates will enjoy the renowned Neapolitan hospitality which has distinguished the city over the centuries.
Naples will show the world that it is a land of excellence – not only for its food and landscape, but also because of its position at the leading edge of high technology.
Enrico Saggese
Chair, Local Organising Committee