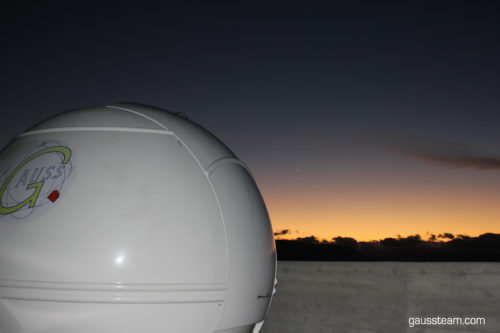 As part of the CastelGauss Project, Castelgrande Observatory is up and running, detecting space objects and determining their orbits, through ground-based optical telescope and radars.
The work on the 22-cm telescope performed observations of various asteroids and provided astrometric measurements.
Especially during this winter clearest nights, sky observations executed by GAUSS collaborator Sergei Schmalz (from ISON) achieved interesting results, with 2732 position measurements for 244 satellites. There were some nights when it has been possible to measure over 200 space objects in a single session.
Overall, a lower brightness of the observed satellites, thus a broader range of observable satellites have been noticed.
The ultimate purpose of this research is the avoidance of collisions between spacecrafts and space debris, as well as an improved accuracy of the orbit determination in GEO belt, in order to have valuable data for more efficient house-keeping maneuvers and better conjunction analyses.