GAUSS has designed a UHF transceiver – with COTS components – for nano and microsatellites, benefiting from the experience gained on orbit during several missions. This radio has as key points reliability and simplicity and it is designed to be easy to integrate on a satellite with the minimum effort. To smooth the testing during the development and the integration of the satellite, it has been created a specific "GAUSS Ground Dongle" with the purpose of easing the communication with the satellite from any environment. Moreover, test ground equipment, software configuration and libraries for its use with the ABACUS OBC are included.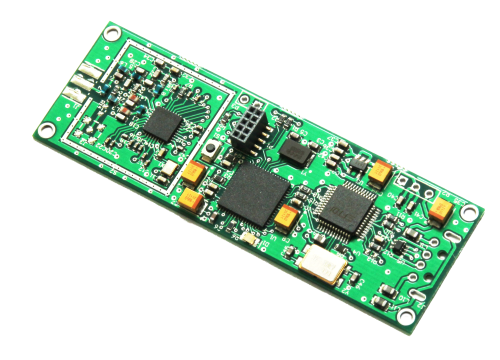 Our state-of-the-art radio has an output power of 36dBm and speeds from 1200bps to 200kbps. As a result of its dimensions two radios can be stacked in the same PC104 for redundancy purposes.
In particular, GAUSS radio features:
Up to 4w output power
Data rates from 0 to 200kbps
Very low power consumption during reception
Various modulation formats
It supports X.25 and FEC protocols
It can be used with I2C, UART and CAN bus
All configurations can be updated once in orbit
Its firmware can be upgraded once in orbit without using any other subsystem
Two radios can be stacked on the same board
The UHF GAUSS Radio will be flying on the next Italian satellite that will be launched in 2017. It will have the role of main link for Telemetry and Command with the Ground Station, while a S-Band GAUSS transmitter will be used for the transmission of payload data.