GAUSS is planning an IAA Conference on Space Debris Observation to be held from 9 to 10 July 2019 in the Basilicata Region (South of Italy) where the Astronomical Observatory of Castelgrande is located.
Castelgrande Observatory forms part of the International Scientific Optical Network (ISON) and carries out Space Debris and NEO observations through CastelGAUSS Project, in cooperation with KIAM the Keldish Institute of Moscow and in agreement with the Municipality of Castelgrande (Province of Potenza, Italy) .
The "IAA Regional Symposium of Space Debris Observations from Basilicata" intends to address the topics related to Space Debris, offering insights deriving from studies and first-hand researches.
On site optical observations of Near-Earth (NEOs) and GSO Objects performed by GAUSS/KIAM experts with CastelGAUSS 22-cm aperture telescope recently led to significant detections and examples of astrophotography: for instance a picture of the Chinese Space Station Tiangong-1 re-entering Earth's atmosphere and a GRB (gamma-ray bursts) optical afterglow.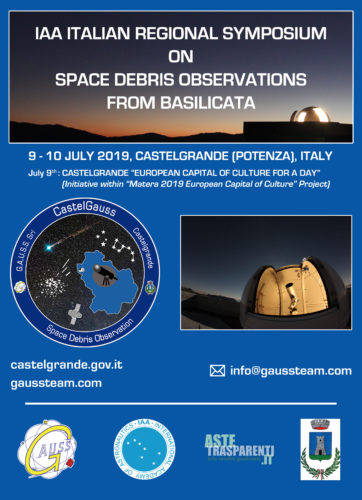 More details on the event will follow, stay tuned!
Background information about CastelGAUSS Project
Please follow and like us: