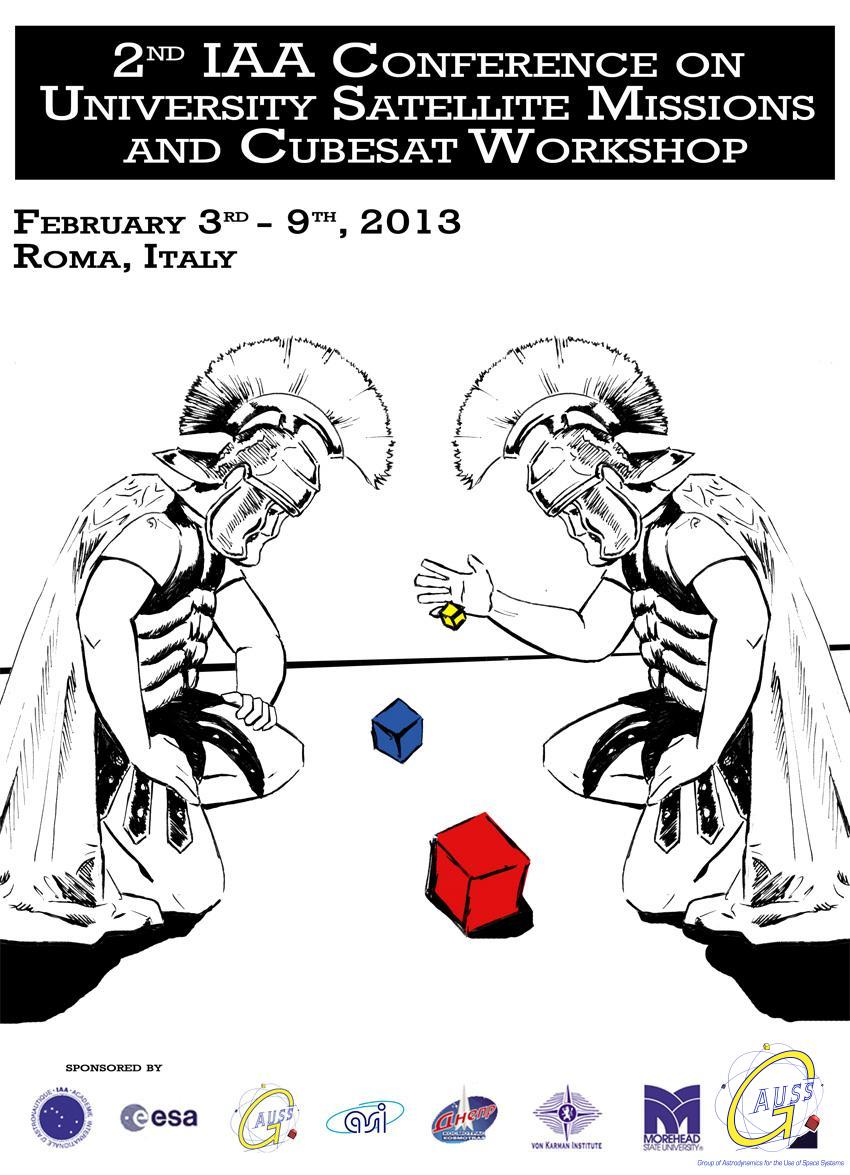 Group of Astrodynamics for the Use of Space Systems (GAUSS srl), is very pleased to invite you to join 2nd IAA Conference on University Satellites Missions and Cubesat Winter Workshop.
It will be held in Rome (Italy), from the 3rd to the 9th of February 2013 , under the main sponsorship of IAA, GAUSS Srl, ESA, ASI, Italian Air Force, Sapienza University of Roma, Morehead State University (Kentucky), Von Karman Institute, FILAS, BCC Roma.
The topics of the conference will focus on University Satellites. During the conference three days will be completely dedicated to the Cubesat community.
The 2nd IAA Conference on University Satellites Missions and Cubesat Workshop follows up the 1st IAA Conference on University Satellites Missions held in Roma in 2011. In the previous edition more than 250 researchers, professors and students from 25 countries participated to the 14 technical sessions. About 100 papers from the first conference were selected and published by International Accademy of Astronautics and GAUSS Srl.
All the details regarding the conference program, accommodation and registration procedure, exhibition stands, are available at www.gaussteam.com.
For any special needs, please do not hesitate to contact us at conference@gaussteam.com.
Looking forward to meeting with you in Rome,
Yours truly
 Filippo Graziani
G.A.U.S.S. President and IAA member, Conference Chair
[ribbon toplink="true"]Local organizing committee:[/ribbon]
F. Graziani, IAA Member, Senior Professor, GAUSS Srl President
P.Teofilatto, IAA Member, Sapienza University ofRoma Professor
C. Cappelletti, PhD, IAA Corresponding Member, GAUSS Srl CEO
S. Battistini, PhD Candidate, Sapienza University of Rome
C. Massimiani, PhD Student
P. Testani, Aerospace and Astronautical MSc, Sapienza University of Roma
[ribbon toplink="true"]Scientific Committee[/ribbon]
Jean-Michel Contant, Robert J. Twiggs, Jordi Puig-Suari, Vladimir Andreev, Rainer Sandau, Vladislav Solovey, Filippo, Graziani, Jean Muylaert, Manlio Carboni, Enrico Tomao, Michael Ovchinnikov, Laura Tassinari, Piero Galeone, Benjamin K. Malphrus, Amalia Ercoli Finzi, Paolo Teofilatto, Marcello Spagnulo, Sergio Chiesa, Carlo Ulivieri, Fernando Aguado Agelet, Chantal Cappelletti.
[ribbon toplink="true"]Goal and Topics of the Conference:[/ribbon]
 The Conference sponsored by International Academy of Astronautics has the goal to provide to the international space community a forum for presentation and discussion in the area of University Satellites.
Inside the Conference two days are completely dedicated to Cubesat community.The main topics are related to the theme: "Innovative aspects of the field related to science and engineering for university satellites."Proposed topics:- Space Environment- Remote sensing and Earth observation- Innovative solutions for university satellite subsystems- Launch opportunities- Space Debris- University Platform for biomedicai research in Space- Ground Segment and Stations Network- New Perspectives for Cubesats- Cubesats Future Payloads and Experiments- Micro-propulsion Subsystems, Formation Flying- Cubesat In-Orbit Experience- Cubesats Scientific Missions and "applications" activities
[ribbon toplink="true"]Proceedings[/ribbon]
Selected Papers will be published on the "Proceedings of the 2nd IAA Conference on University Satellites Missions and CubeSat Winter Workshop" by International Academy of Astronautics and G.A.U.S.S. Srl
[ribbon toplink="true"]Important Dates[/ribbon]
Abstract Submission Deadline: December 17th 2012
Acceptance Notification: December 22nd 2012
Paper Submission Deadline: January 25th 2013
[ribbon toplink="true"]Exhibition[/ribbon]
An exhibition area is organized during the conference, for all informations please download the exhibition manual.
[ribbon toplink="true"]Contacts[/ribbon]
Organizing Committee:
GAUSS SrL: info@gaussteam.com
[ribbon toplink="true"]Registration[/ribbon]
For registration, use this page.
Sponsors (under construction)